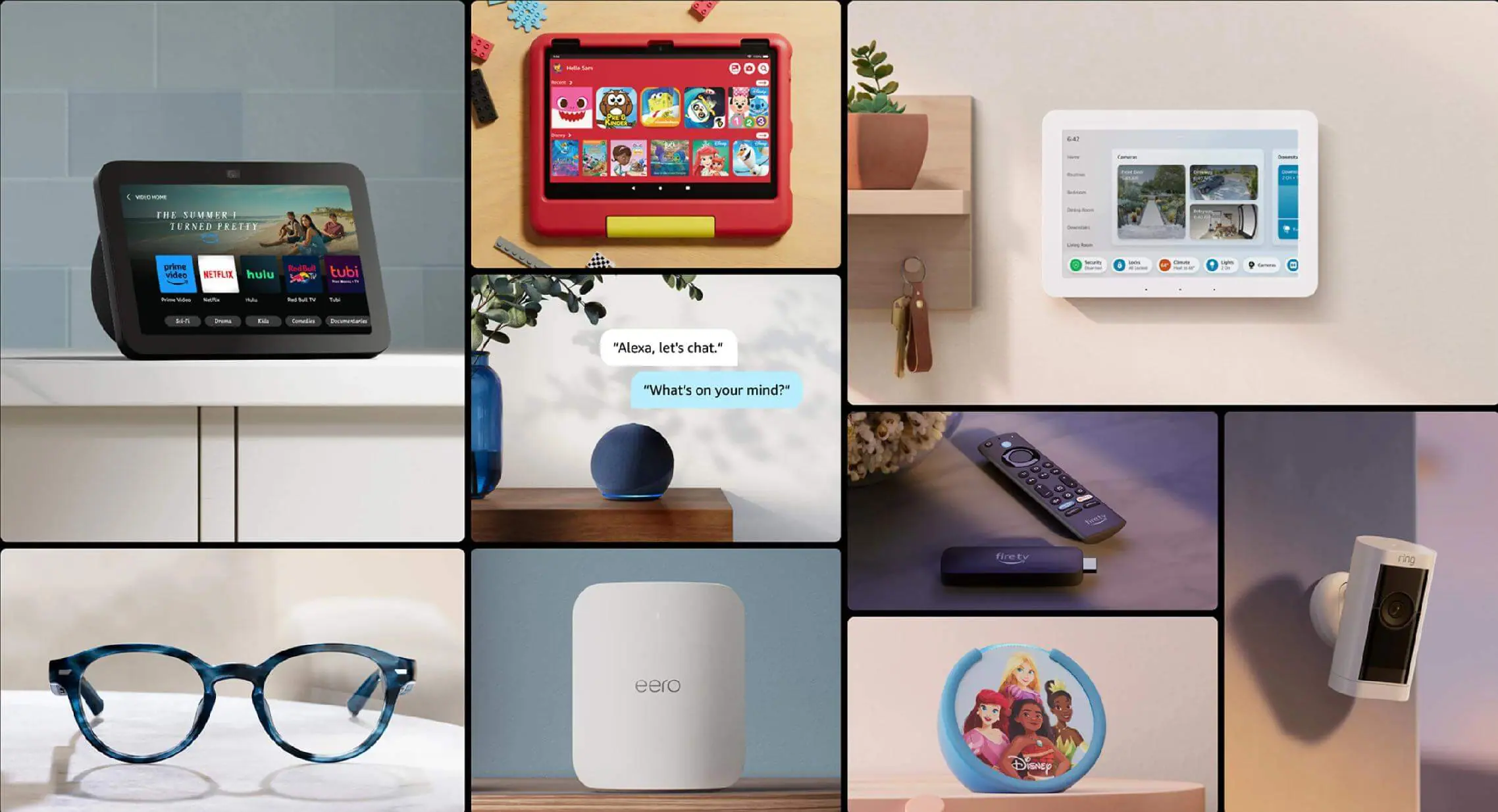 Amazon recently hosted its much-anticipated 2023 Devices & Services event, and true to expectations, it introduced an array of cutting-edge smart home products. These innovative devices are set to hit the market next month, just in time to captivate shoppers for the upcoming holiday season. In the lead-up to the product launch, Amazon has scheduled the Amazon Early Access Sale next month and the eagerly awaited Black Friday sale in November.
In addition to the impressive lineup of new hardware, Amazon showcased significant enhancements to Alexa, harnessing the power of generative AI. The result of these improvements promises to deliver more natural and engaging conversations with the digital assistant. Alexa will now incorporate subtle nuances like "ums," pauses, and even laughter, ensuring interactions feel increasingly conversational.
One particularly intriguing addition, the Eye Gaze feature, is on the horizon and set to debut later this year exclusively on the Fire Max 11 tablet. This innovative feature will allow users to control predefined actions simply by directing their gaze.
Here's a comprehensive overview of all the exciting announcements from Amazon's fall hardware event, encompassing both groundbreaking hardware and enhanced services.
New 10-inch Fire tablets for Kids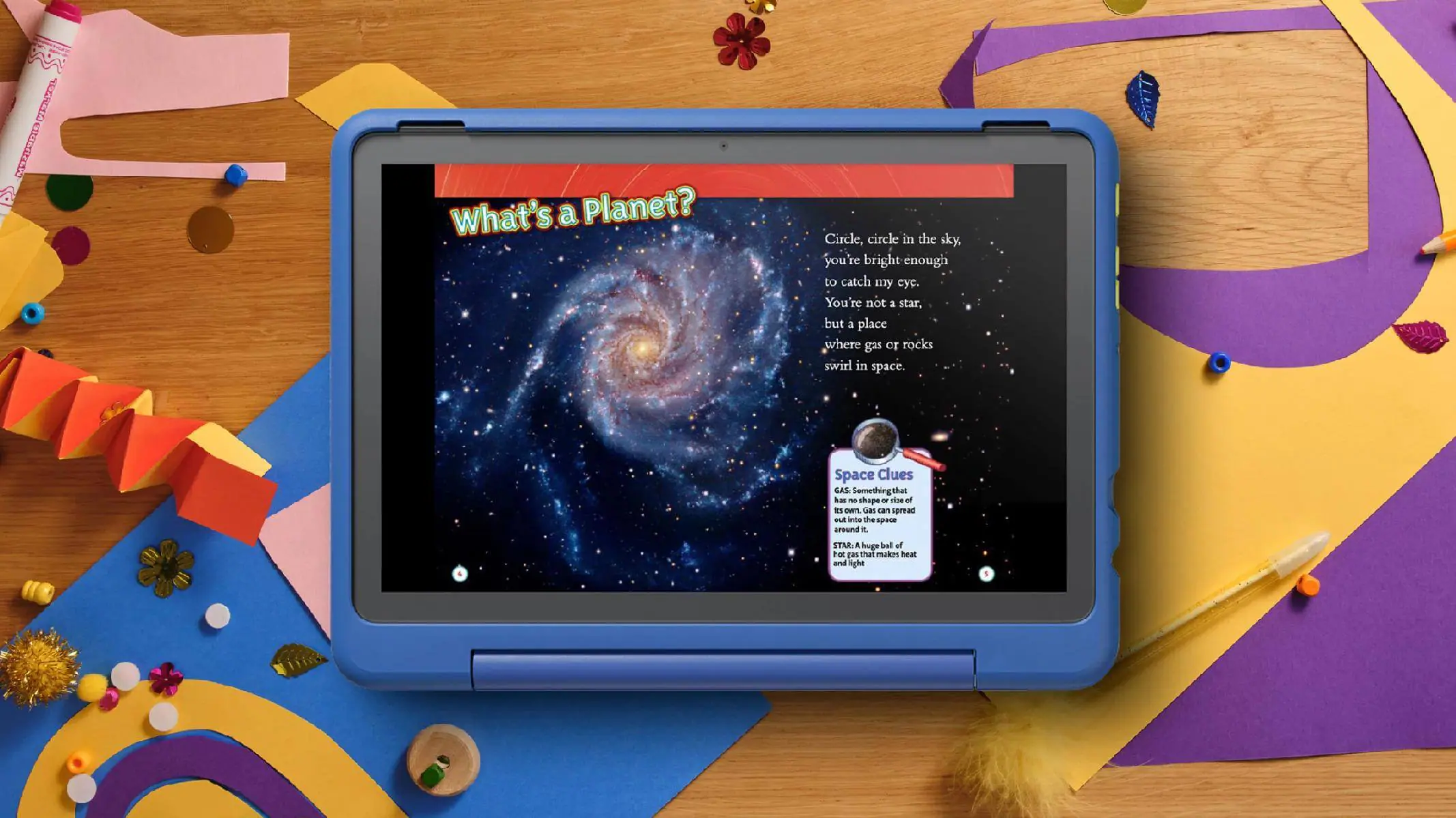 Amazon unveiled two brand-new 10-inch Fire tablets designed specifically for the younger audience. The Fire HD 10 Kids is intended for children aged 3 to 7, while the Fire HD 10 Kids Pro is geared toward kids between the ages of 6 and 12. Both models represent upgraded versions of the Fire HD 10, offering an enhanced user experience.
Amazon's latest creations boast impressive features, including a 10.1-inch, 1080p (full HD) screen, 3 GB of RAM, and 5 MP cameras. Notably, these tablets are both lighter and 25 percent faster than their predecessor, the 2021 Fire HD 10. Alongside these kid-focused tablets, Amazon also introduced a new standard version of the Fire HD 10, with an attractive starting price of $140 for the 32 GB storage variant.
As is customary with Amazon's Fire Kids tablets, these new models come bundled with padded protective cases, a 12-month subscription to Amazon Kids Plus, featuring a range of kid-friendly apps and content, and a two-year free replacement policy in case of accidental damage. Remarkably, both models offer impressive battery life, capable of delivering up to 13 hours of usage on a single charge. Additionally, the non-Pro model will feature a Disney-themed option.
Both the Fire HD 10 Kids and Fire HD 10 Kids Pro are set to retail at $190 and will be available for purchase starting from October 18, providing a compelling choice for parents seeking quality, kid-friendly tablets for their children.
Amazon's latest product announcements showcase an impressive lineup of Echo devices that promise to elevate the smart home and audio experience:
Echo
Echo Show 8 (New Generation)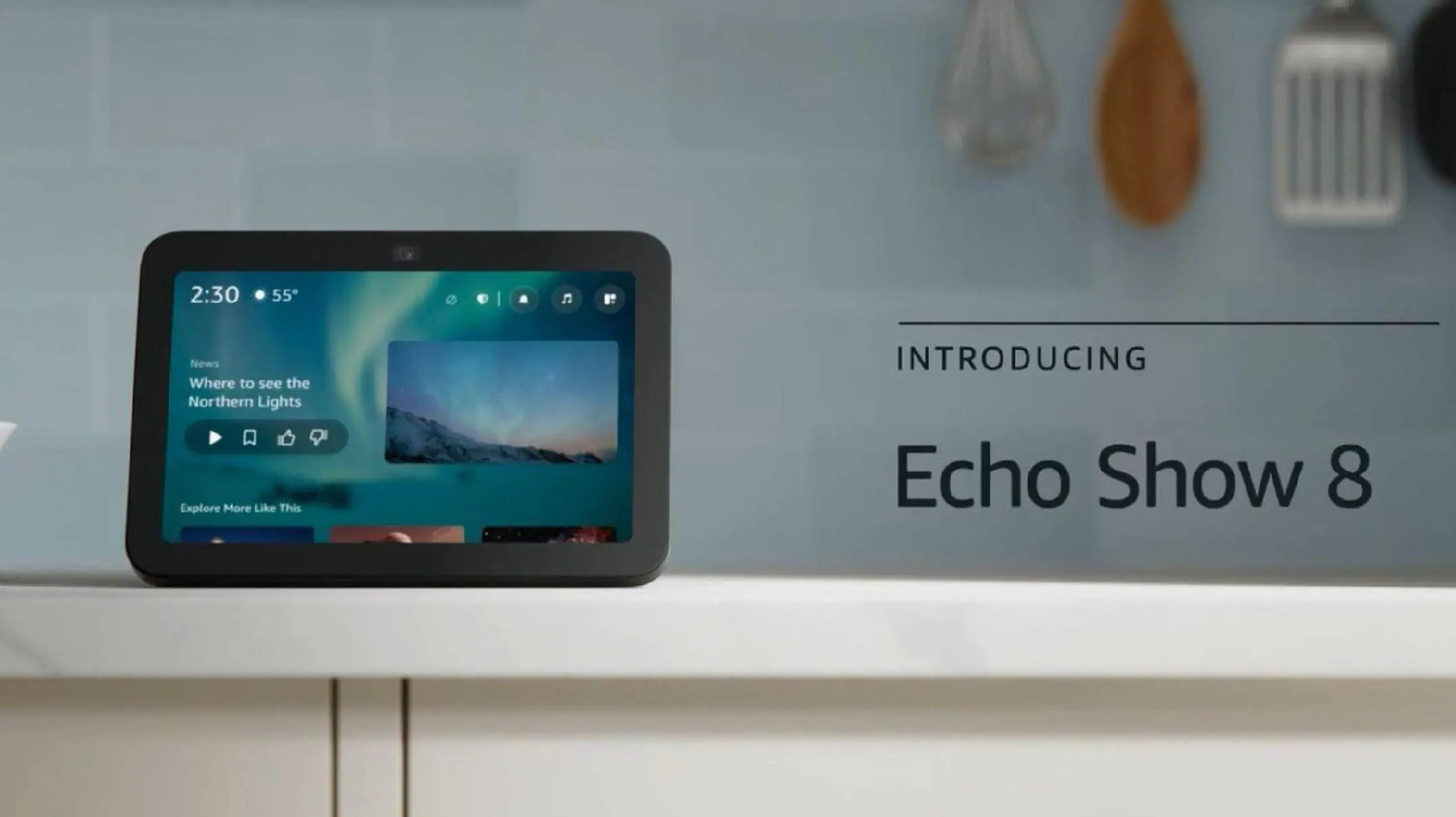 The Echo Show 8 has undergone a significant overhaul, featuring a fresh industrial design, an upgraded processor, and a built-in smart home hub. Sound quality has received a boost with improved clarity and bass, along with room adaptation technology that adapts to the acoustic properties of its surroundings. This enhancement ensures optimal sound, regardless of the Echo Show 8's placement. Amazon's spatial audio processing technology adds a wider and more immersive sound dimension. Moreover, video calls now benefit from a clearer audio pipeline, reducing background noise and ensuring crisp dialog.
Echo Pop Kids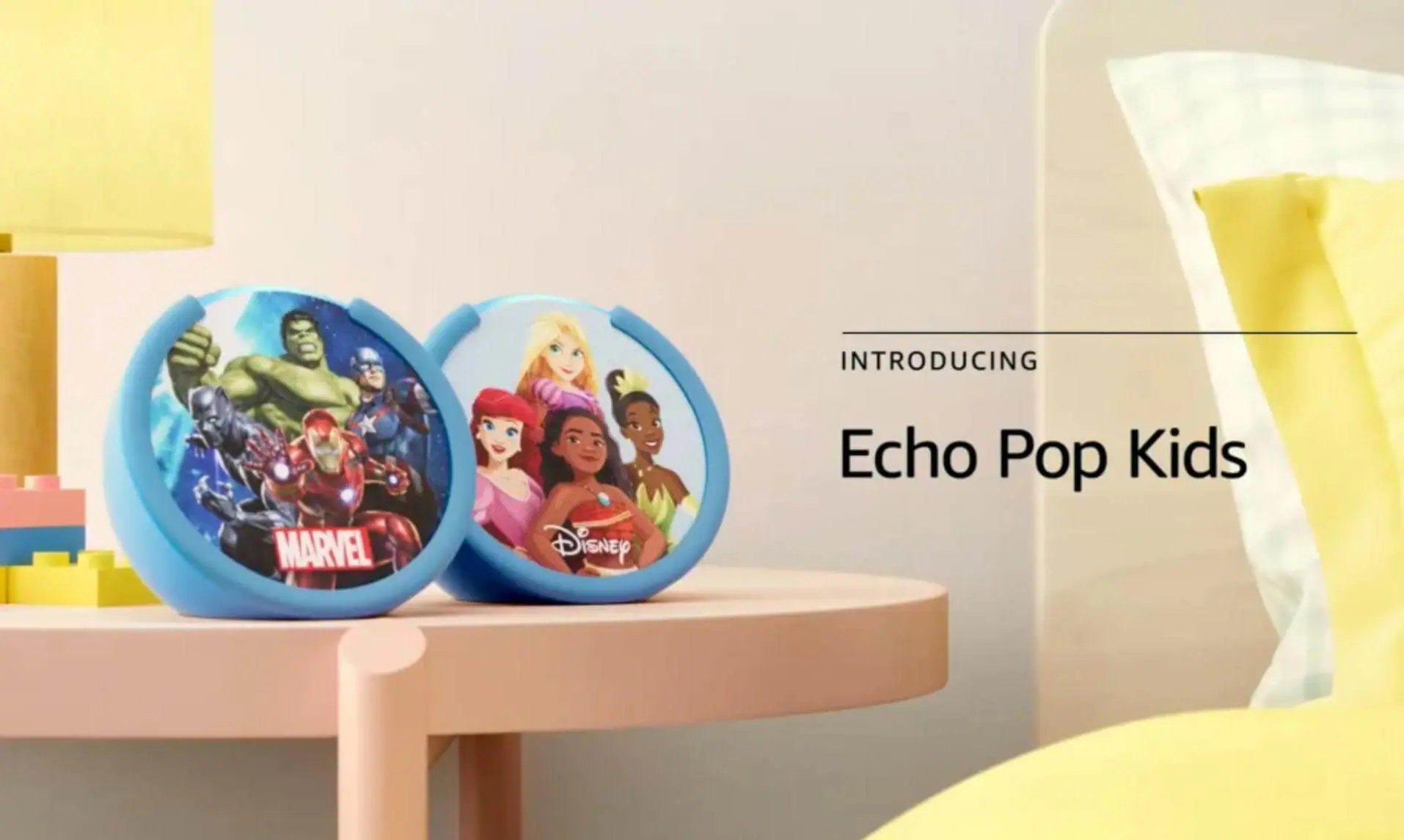 Designed specifically for children, the Echo Pop Kids comes in two captivating themes—Marvel's Avengers and Disney Princess. These smart speakers not only feature corresponding character themes but also offer engaging content, such as greetings, fun facts, and jokes about Avenger heroes or Disney Princesses. With a generous six-month subscription to Amazon Kids+, families gain access to a treasure trove of kid-friendly content, including audiobooks, Alexa features, custom themes, and more.
Echo Hub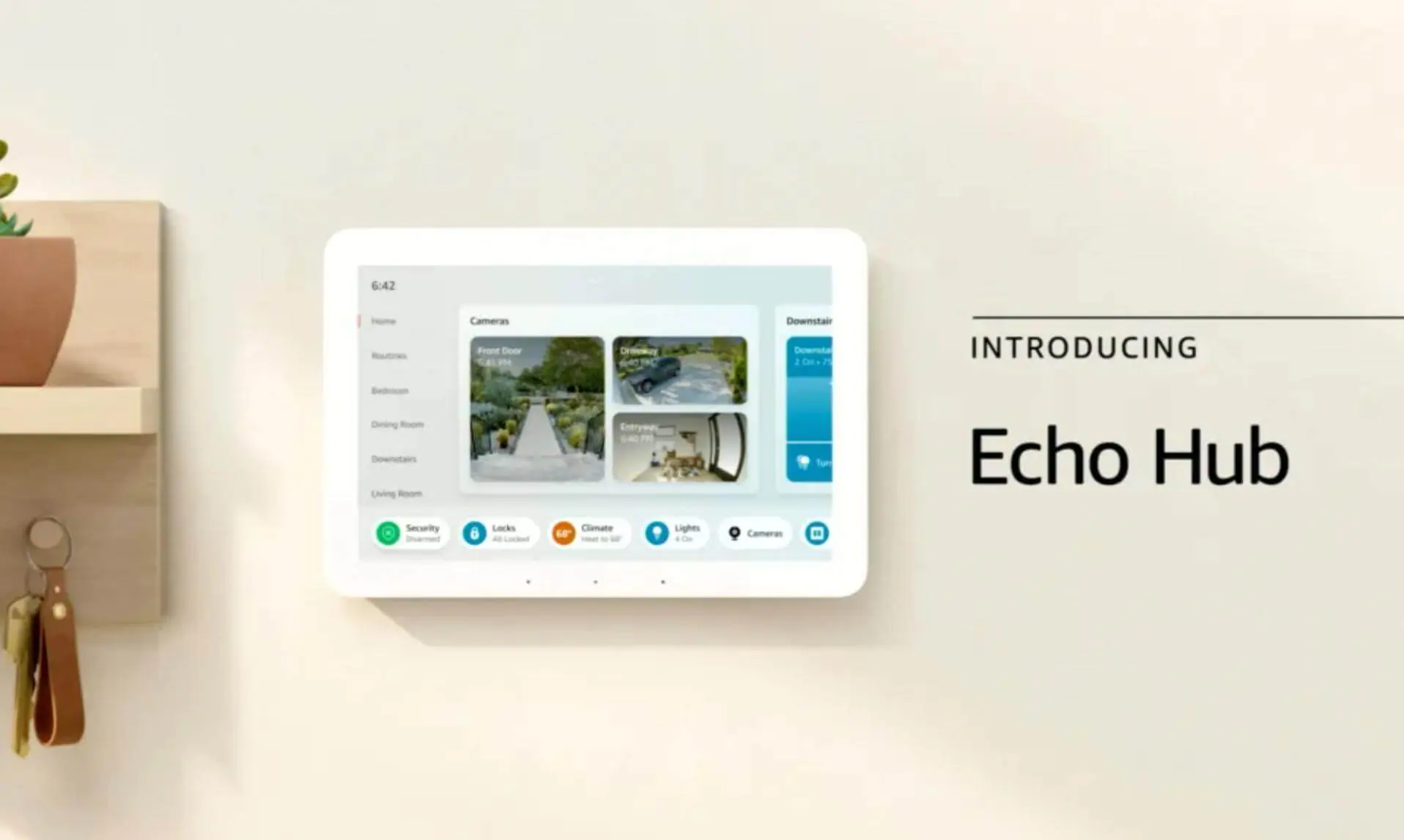 Amazon's Echo Hub is a game-changer in smart home control. Powered by Alexa, it offers customers a user-friendly interface for managing their smart home devices. The device boasts an eight-inch, touch-enabled display with a customizable dashboard, simplifying tasks like grouping and controlling smart devices, managing security systems, initiating routines, organizing widgets, and monitoring multiple camera views simultaneously. When not actively in use, the Echo Hub seamlessly blends into the home environment, displaying personalized content like family photos, weather updates, or the time.
Echo Frames and Carrera Smart Glasses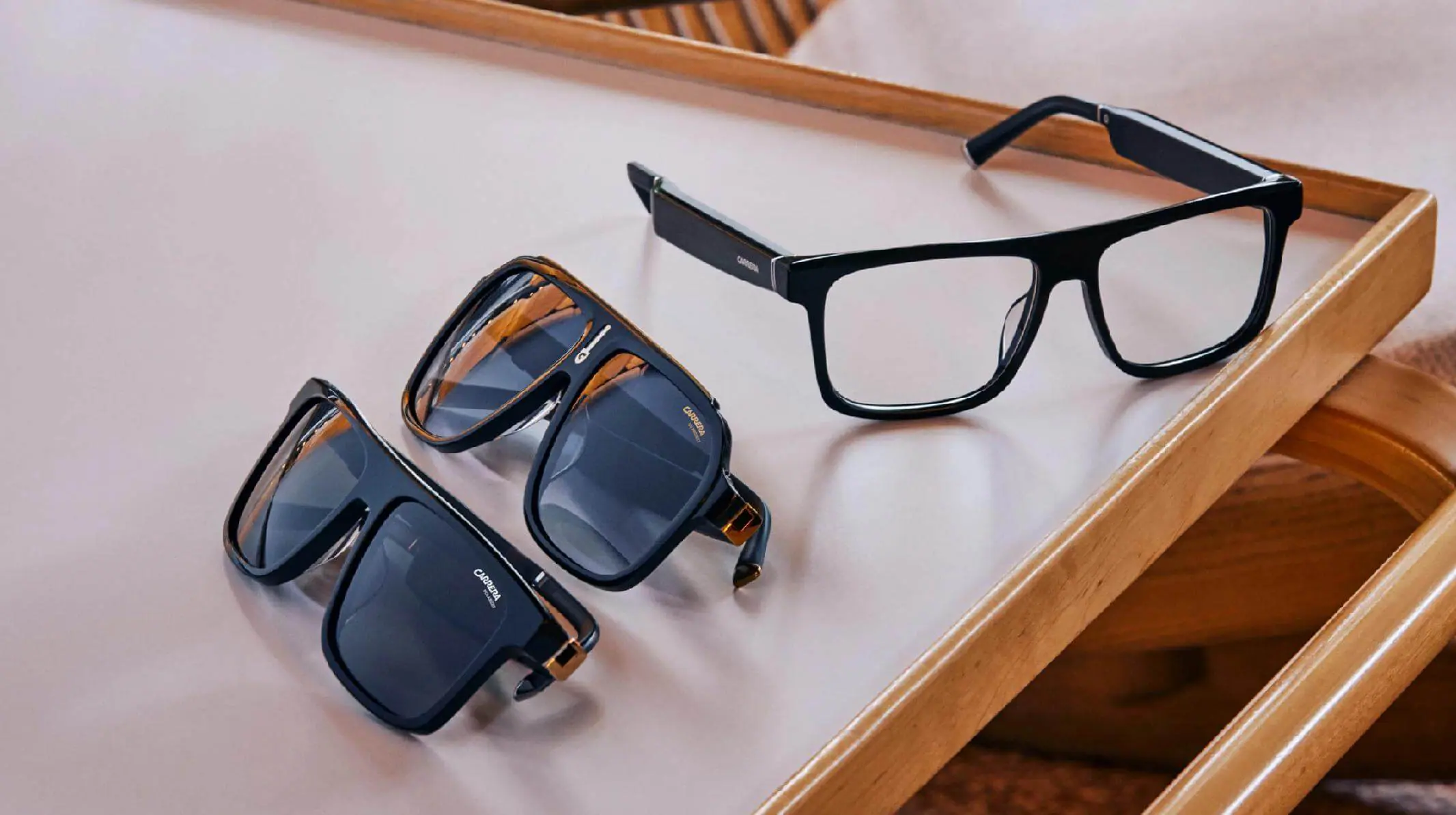 The next-generation Echo Frames marry style with Alexa's functionality. Available in five new styles, these frames offer options for sunglasses, prescription lenses, or blue light filtering. Designed for comfort, they feature lightweight, premium acetate construction with slimmer temples, ensuring all-day wearability. The Echo Frames also deliver an improved battery life, offering up to six hours of continuous media playback or talk time on a single charge. Their open-ear audio architecture and custom-built speakers provide three times more bass and precision sound delivery, while minimizing external noise. Accompanying these frames are the Carrera Smart Glasses, a brand-new line of smart eyewear that blends Alexa seamlessly with fashion-forward frame styles created by Carrera Eyewear.
Fire TV
Fire TV Stick 4K Max (2nd Gen)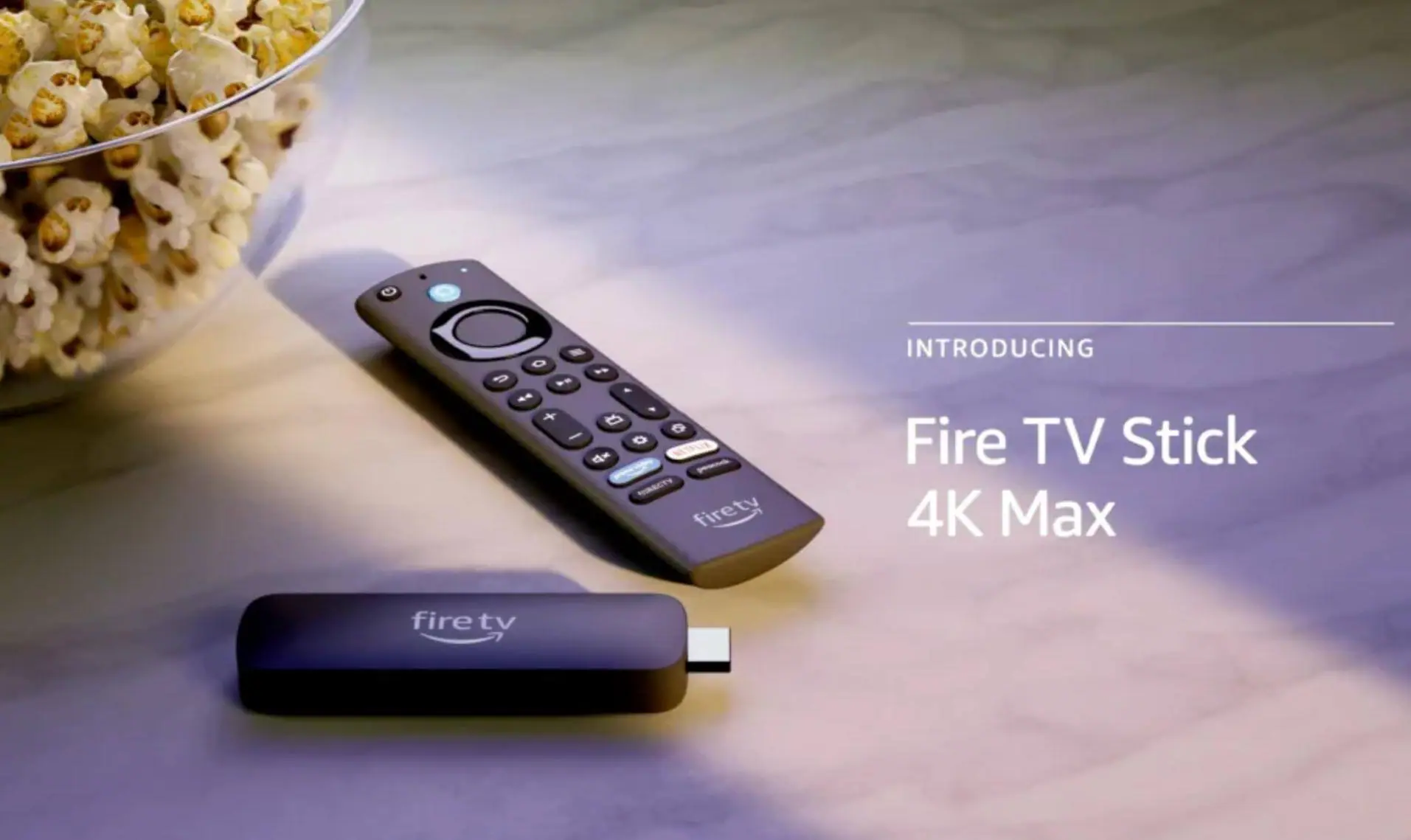 This second-generation Fire TV Stick 4K Max is the pinnacle of streaming media players. It debuts the Fire TV Ambient Experience, providing a unique visual and audio ambiance. Powering this innovation is an upgraded 2.0 GHz quad-core processor, solidifying its position as Amazon's most intelligent and high-performance streaming stick. Notably, the Fire TV Stick 4K Max is the first streaming stick in the U.S. to support Wi-Fi 6E, delivering lightning-fast connectivity. It boasts a striking 4K Ultra HD resolution, along with support for Dolby Vision, HDR, HDR10+, and immersive Dolby Atmos audio. Additionally, it offers a generous 16 GB of storage, doubling the previous generation's capacity, and ensuring ample space for apps, content, and more.
Fire TV Stick 4K (2nd Gen)
For an outstanding streaming experience without breaking the bank, the second-generation Fire TV Stick 4K delivers exceptional value under $50. It introduces support for Wi-Fi 6 and features an upgraded 1.7 GHz quad-core processor, boosting its performance by nearly 30 percent compared to the previous generation. Users can revel in vibrant 4K Ultra HD picture quality and immerse themselves in Dolby Atmos audio with support for Dolby Vision, HDR, HLG, and HDR10+.
Fire TV Soundbar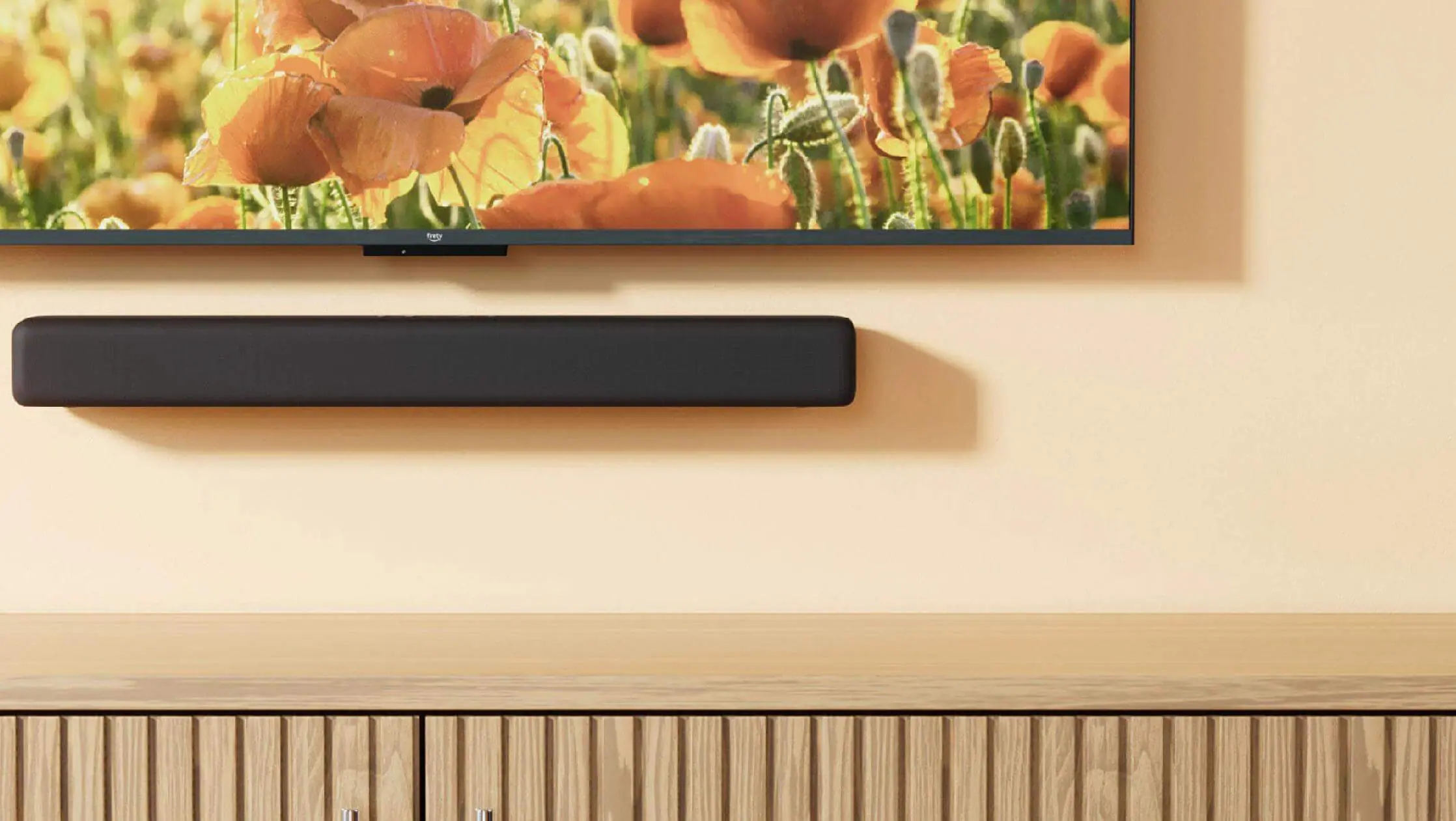 Elevate your audio experience with the new two-channel Fire TV Soundbar, delivering room-filling sound enhanced by DTS Virtual:X and Dolby Audio. Despite its compact 24-inch design, this soundbar packs a powerful punch. It seamlessly integrates with all Fire TV devices, ensuring a hassle-free setup. Beyond TV viewing, users can effortlessly connect their smartphones, tablets, or any streaming device via Bluetooth, making it a versatile addition to your entertainment setup.
Ring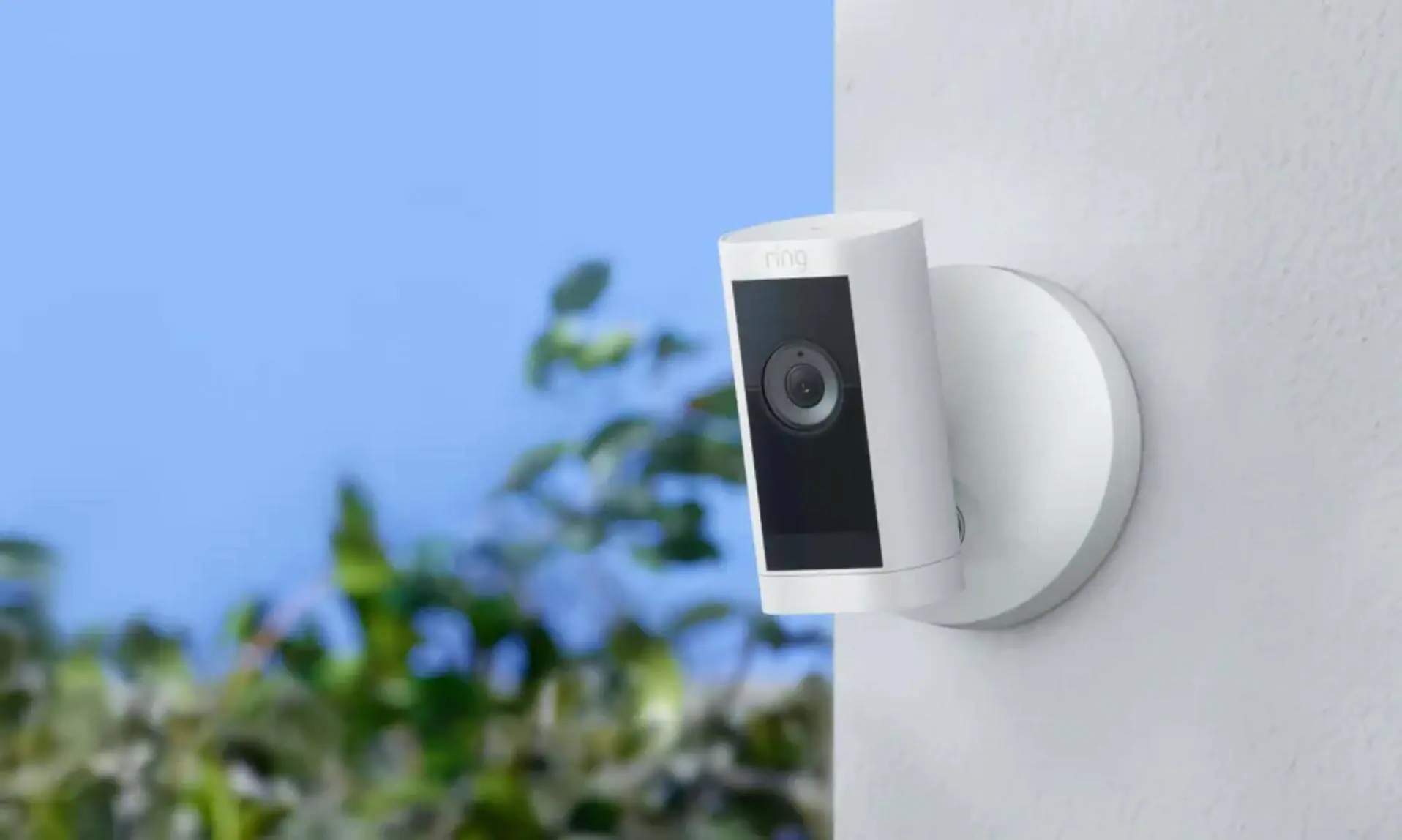 Ring is taking home security to the next level with the introduction of the Ring Stick Up Cam Pro. This highly versatile camera comes packed with cutting-edge features, including the revolutionary radar-based 3D Motion Detection system. The 3D Motion Detection technology makes motion alerts more precise and accurate than ever before. This innovative feature ensures that you are alerted only when genuine motion is detected. Further, utilizing advanced radar, this camera offers Bird's Eye Zones and Bird's Eye View features. These capabilities provide an aerial perspective, allowing users to pinpoint specific areas and receive alerts exclusively for movements by people within those zones.
Also, whether you need surveillance indoors or outdoors, the Ring Stick Up Cam Pro has you covered. It's available in three power options—Battery, Plug-in, and Solar—ensuring flexibility and convenience in your choice of setup. This camera also incorporates Advanced Pre-Roll, offering a valuable buffer of video footage leading up to detected events, ensuring you never miss a critical moment. Ring has also upgraded the audio experience with Audio+. Thanks to two array microphones and echo cancellation technology, you'll enjoy crystal-clear sound. Additionally, the camera features a security siren for added protection.
Blink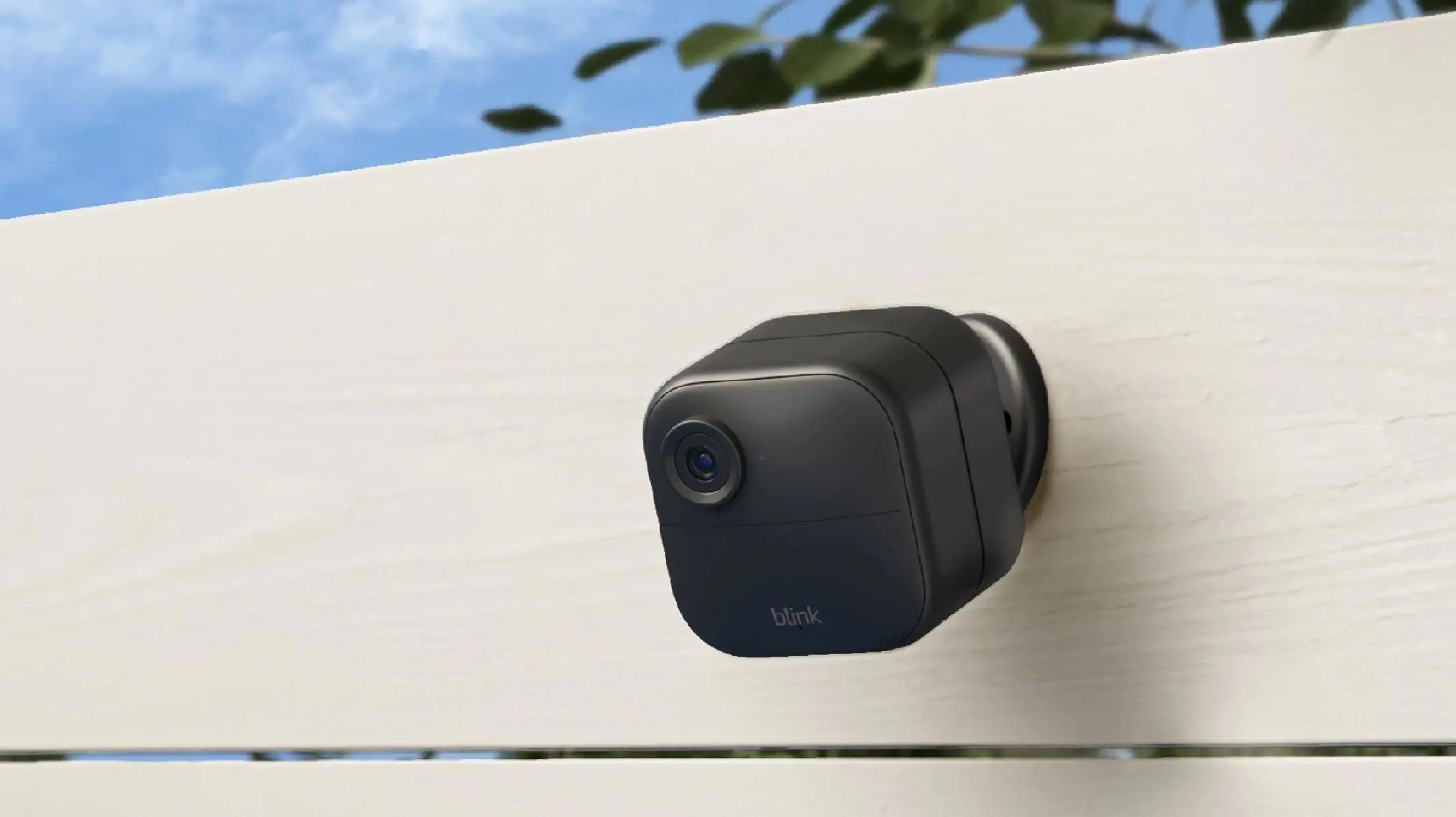 Blink Sync Module Pro
The Blink Sync Module Pro marks a significant advancement in system hubs. With a focus on extending the capabilities of the Blink Outdoor 4, it utilizes a proprietary wireless protocol integrated into Blink's state-of-the-art third-generation silicon. This innovation substantially expands the range of your Blink Outdoor 4 cameras, going well beyond the limitations of Wi-Fi. Now, homeowners can strategically place their Outdoor 4 cameras in a wider array of locations without concerns about Wi-Fi coverage. Additionally, the Sync Module Pro includes a MicroSD card slot (MicroSD card sold separately) for customers who prefer to save and store video clips locally.
Blink Outdoor 4 Floodlight Camera
The new Blink Outdoor 4 Floodlight Camera represents the next evolution in wire-free smart security floodlights. It combines potent motion-triggered LED lighting with exceptional battery life, providing up to two years of operation on default settings. The Blink Outdoor 4 is already known for its remarkable image quality among battery-operated devices. When paired with the optional Floodlight Mount, homeowners gain the ability to illuminate any area of their property, enhancing visibility where needed most.
Blink Outdoor 4 Battery Extension Pack
For those seeking even more flexibility and extended battery life, Blink introduces the Outdoor 4 Battery Extension Pack. This versatile add-on allows you to configure and optimize your Outdoor 4 camera's performance to potentially last up to four years on default settings. It empowers users to increase clip recordings, engage more frequently in two-way audio interactions, enhance resolution, and improve night vision brightness—all while preserving the renowned battery life that Blink is celebrated for.
Eero Max 7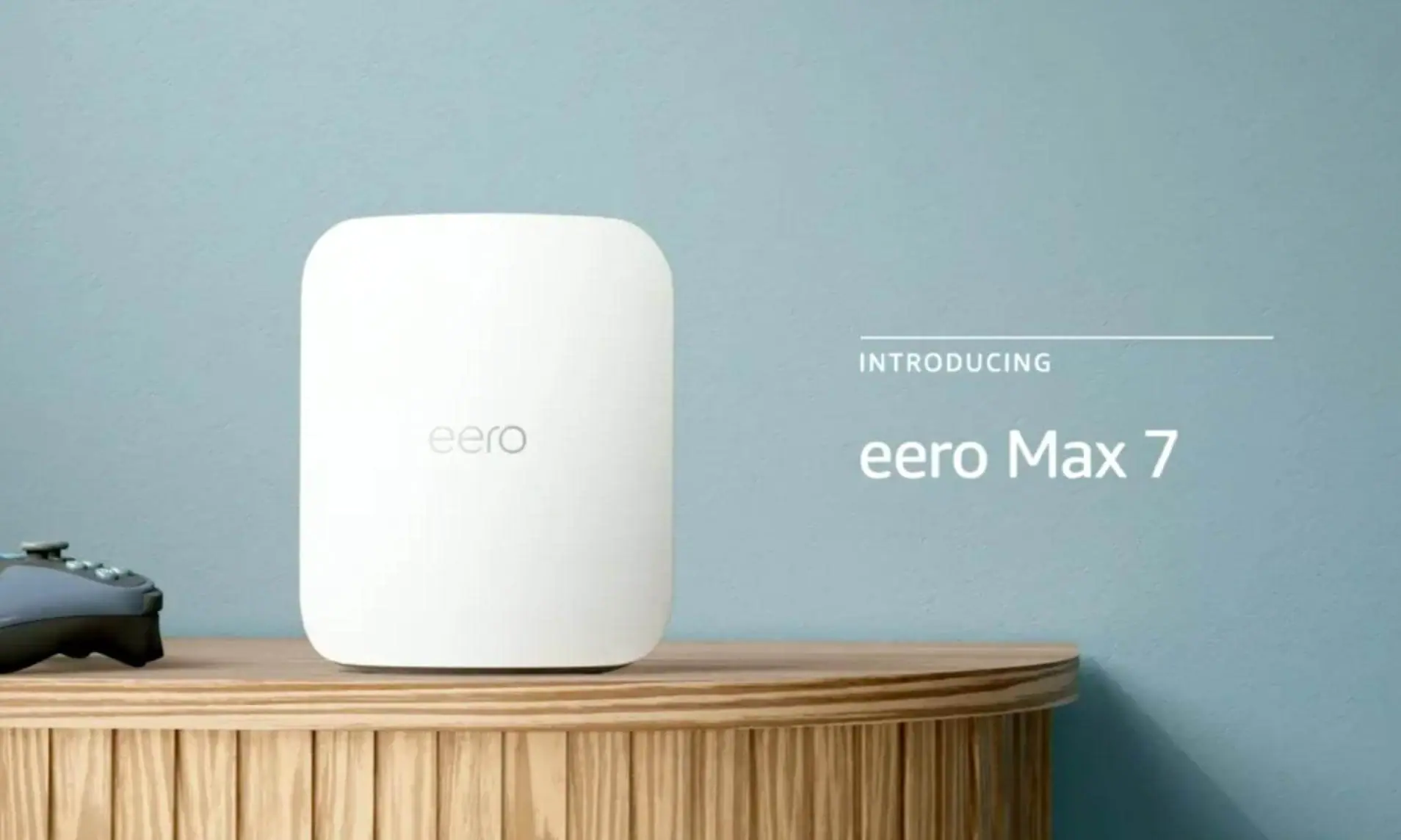 Amazon's latest innovation, the Eero Max 7, is set to redefine home networking by combining the functionalities of a router, range extender, and repeater into a single, high-performance device. With impressive features and capabilities, the Eero Max 7 promises to deliver an exceptional online experience. The Eero Max 7 offers 10-gigabit Ethernet connections, boasting astounding download speeds. It will be able to stream a 4K movie in just 10 seconds or download a 50 GB game in less than a minute. It supports three radio bands — 2.4GHz, 5GHz, and the latest 6 GHz band. It delivers wireless connection speeds of up to 4.3 Gbps, ensuring seamless performance. Wired connections, on the other hand, can achieve an impressive speed of 9.4 Gbps.
The Eero Max 7 provides coverage for up to 2,500 square feet of wireless area, making it ideal for both small and larger homes. For those seeking broader coverage, multiple Eero Max 7 units can be linked together to create a mesh network, effectively extending coverage to even more areas. With four Ethernet ports, the Eero Max 7 caters to a wide range of devices that require wired connections, offering flexibility in your network setup.
The Eero Max 7 is priced at $600 and will be available for purchase in the near future. For early enthusiasts, pre-orders are already open, allowing users to secure their Eero Max 7 units ahead of its official release. This groundbreaking networking solution from Amazon promises to elevate home connectivity to new heights, offering remarkable speed, coverage, and versatility.
Other services and features
Echo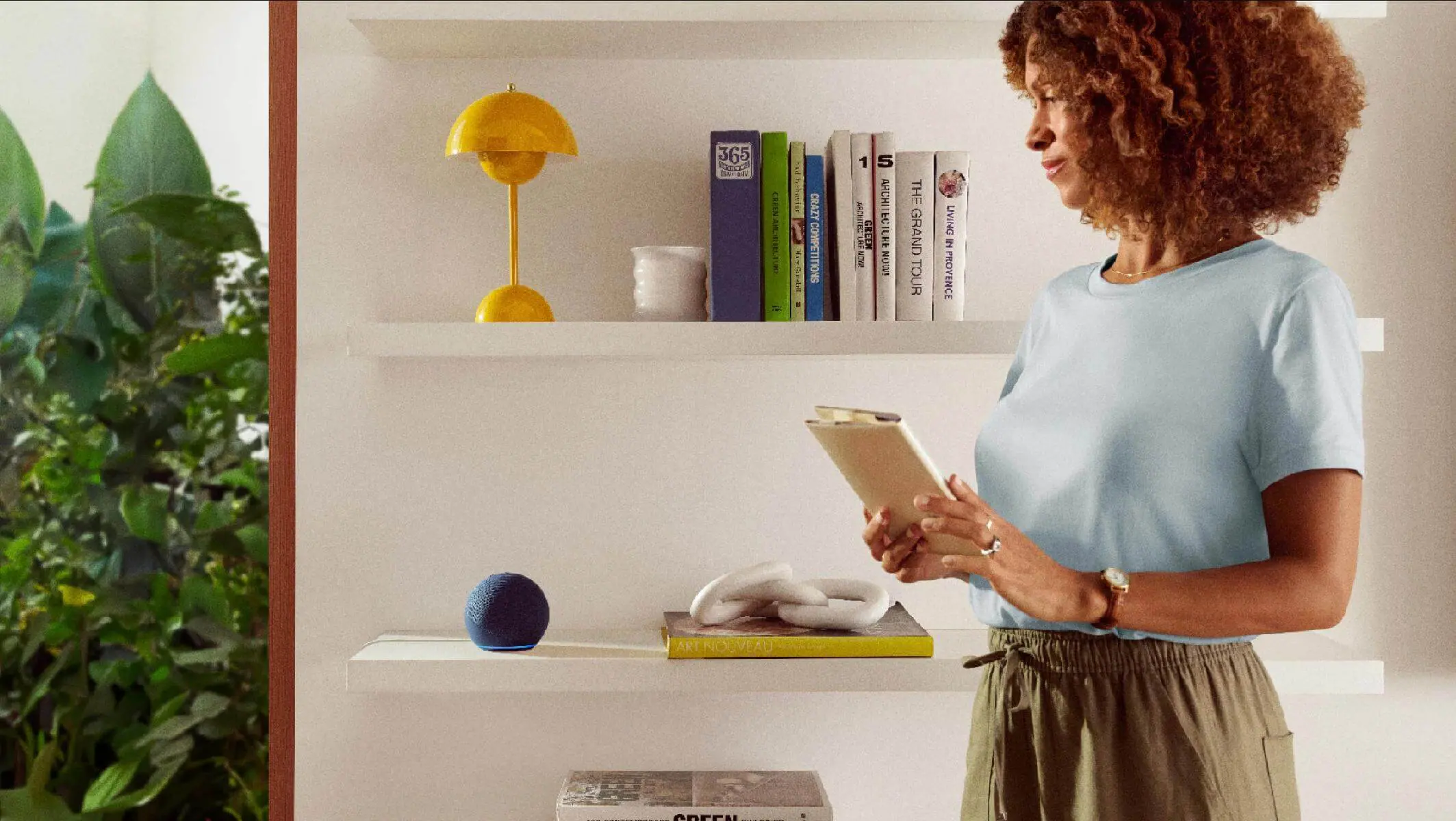 Adaptive Content
The introduction of Adaptive Content represents a groundbreaking advancement in home screen experiences. This feature leverages on-device computer vision technology to intelligently adjust on-screen content based on the user's proximity to the device. When positioned across the room, users will see content that is optimized for easy viewing from a distance, such as simplified news headlines. As the user approaches the device, the screen seamlessly transitions to provide more detailed and immersive content. Adaptive Content ensures that users always have the most relevant and engaging information at their fingertips, adapting to their viewing preferences.
TalkBack Voice Comments
Amazon is giving users the opportunity to be featured on their local iHeart radio station with TalkBack Voice Comments. This feature enables users to leave voice comments on their Echo devices, which can be sent to radio DJs across a vast network of over 860 iHeart U.S. radio stations. Radio hosts will receive these comments in real time and have the discretion to choose which ones to play on-air. To participate, users can simply say, "Alexa, send a voice comment" or "Alexa, send a talk back" to share their thoughts and voice with their preferred radio station. It's a unique and interactive way for users to connect with their favorite radio personalities and contribute to the broadcast experience.
Fire TV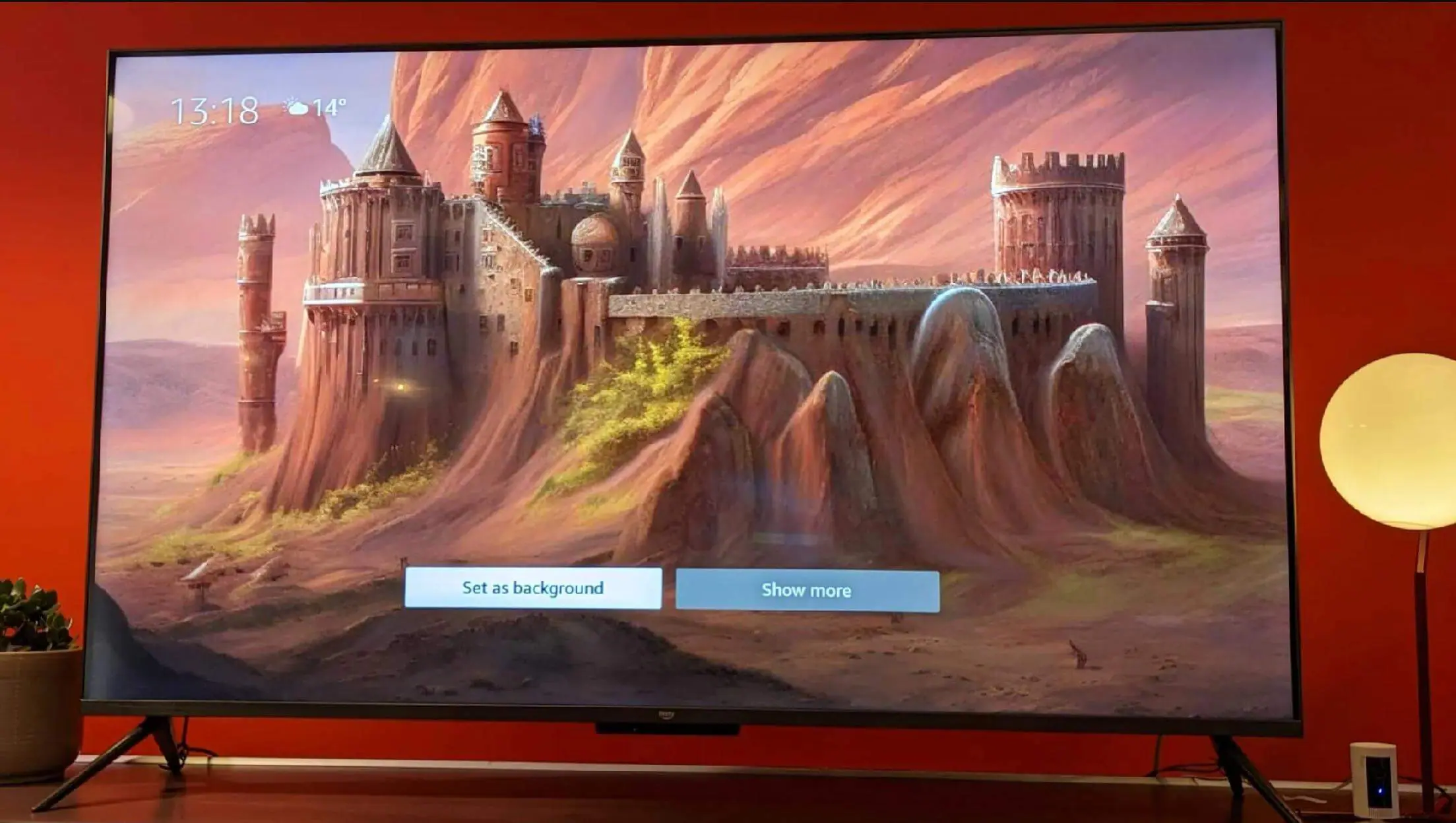 Fire TV AI-powered Search
The new Fire TV search experience is powered by generative AI and seamlessly integrates with Fire TV's extensive entertainment content and app library. This combination allows users to search, browse, and receive recommendations in a natural, contextual, and conversational manner. With the ability to ask Alexa nuanced or open-ended questions about TV shows and movies, users can effortlessly find what they're looking for using natural language.
AI Art
Amazon is introducing AI Art, a creative feature that enables users to generate artwork on Fire TV using voice commands. By simply providing an imagination-driven prompt to Alexa, such as "Alexa, create an image of cherry blossoms in the snow," users can witness their ideas come to life on the Fire TV screen. This unique feature adds a touch of personalization to your viewing experience.
Continue Watching Row
Fire TV is introducing a new "Continue Watching" row that aggregates your favorite content from leading streaming providers. Whether it's Amazon Freevee, Disney+, Hulu, Max, MGM+, Peacock, STARZ, or Tubi, this feature puts your in-progress movies and TV shows front and center. It prioritizes recent viewings, making it easier to pick up where you left off and quickly find what you want to watch.
Fire TV Channels on Echo Show
Echo Show users are in for a treat with over 420 live and ad-supported video channels available for free through Fire TV Channels. From news and entertainment to sports, travel, cooking, gaming, and lifestyle content, there's something for everyone, any time of day. Simply say "Alexa, watch TV" to dive into this extensive selection.
Fire TV MGM+ Bundle
Customers in the U.S. who purchase a new Fire TV streaming media player or smart TV on Amazon.com or in retail stores will enjoy a complimentary six-month subscription to MGM+. This subscription unlocks access to thousands of movies from MGM and other major Hollywood studios, including blockbuster titles like Top Gun: Maverick, No Time to Die, House of Gucci, as well as original series like FROM, Godfather of Harlem, and Billy the Kid.
Ring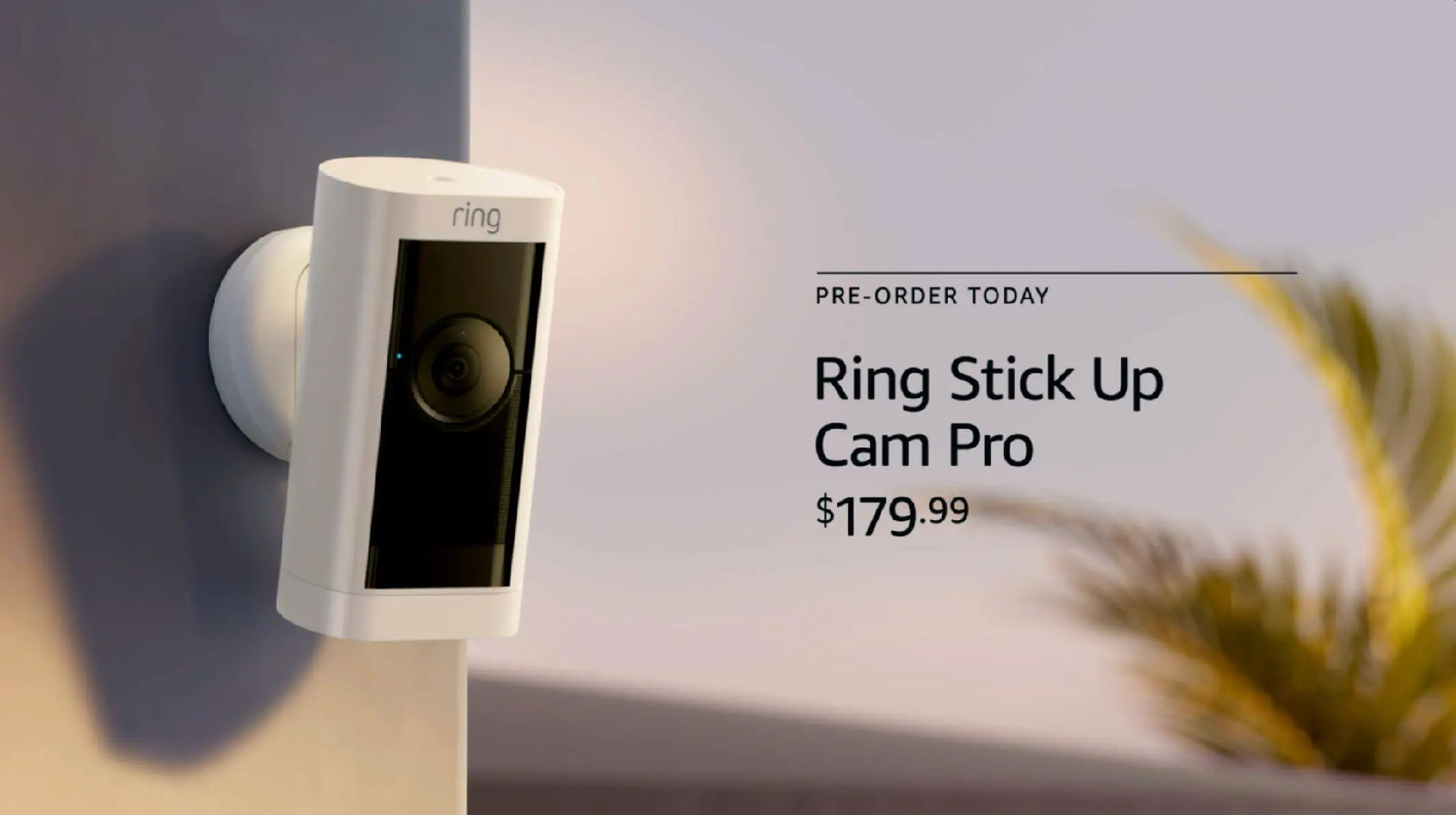 Ring is taking home automation to the next level with the introduction of Ring Routines. These intuitive features, integrated into the Ring app, offer seamless control over Alexa Routines, ensuring that your smart home operates precisely according to your preferences. With Ring Routines, you gain direct access to view, enable, and disable Alexa Routines that you've configured. This streamlined approach allows for effortless management and customization, putting you in charge of your smart home like never before.
This fall, Ring Routines will present you with a list of pre-populated Routines tailored to your preferences. These recommendations are designed to simplify your daily routines and enhance your home's security. Some of the pre-configured Routines include turning off your lights and arming your home security system, automatically illuminating your lights when someone rings the doorbell at night, or receiving announcements when someone opens the back door.
Eye Gaze on Alexa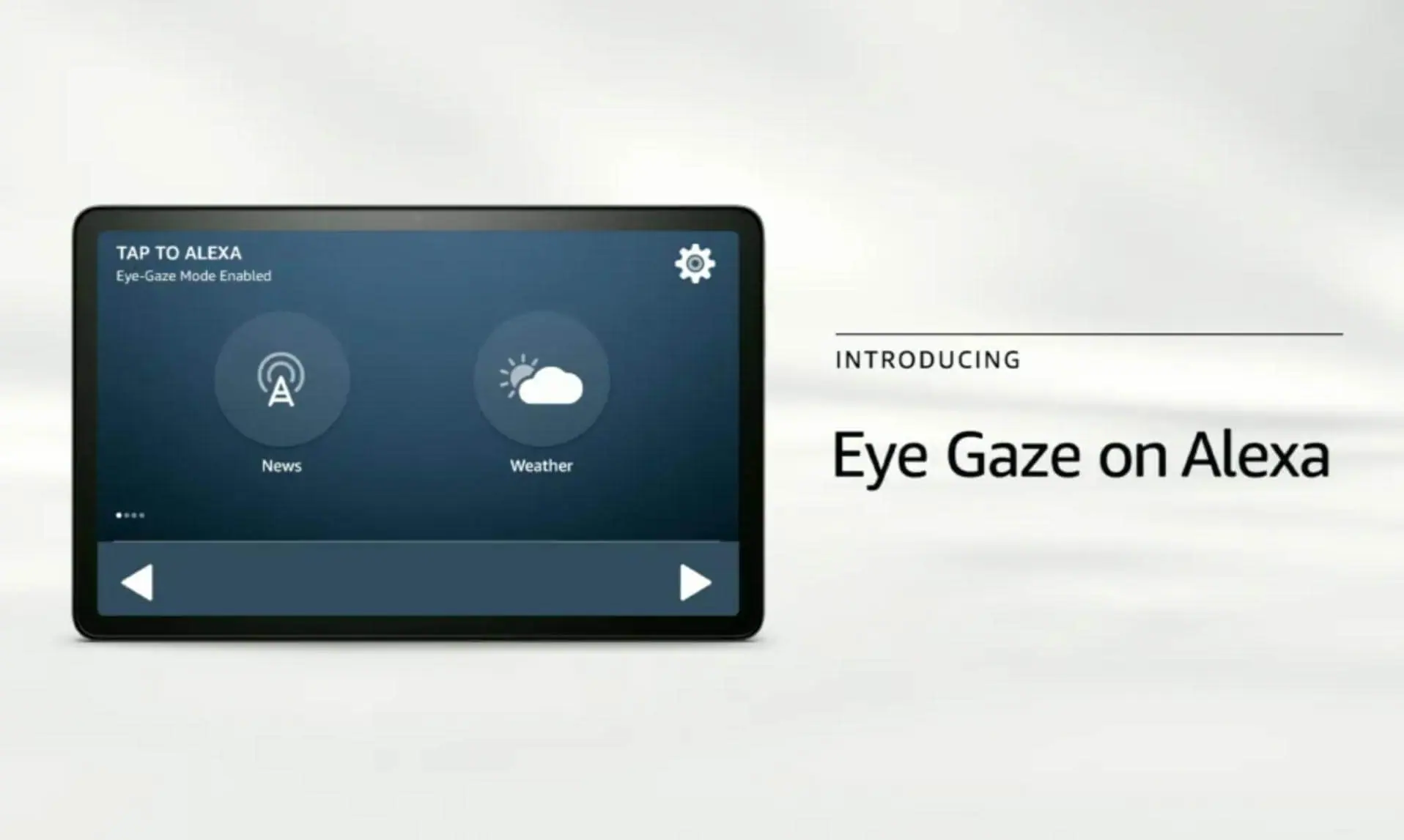 Amazon is committed to making technology accessible to everyone, and their latest innovation, Eye Gaze on Alexa, takes a significant step towards achieving that goal. This groundbreaking feature, designed for the Fire Max 11 tablet, enables individuals with mobility or speech disabilities to perform actions using only their line of sight without the need for hands or voice commands. This hands-free approach offers a new level of independence and convenience.
Users can leverage Eye Gaze to perform preset actions, such as playing music, watching shows, managing smart home devices, or making calls to loved ones. This versatility ensures that individuals with disabilities can stay connected, entertained, and in control of their environment.Eye Gaze on Alexa is a testament to Amazon's commitment to accessibility and inclusivity. By developing this feature, they are breaking down barriers and ensuring that technology is accessible to all.
Call Translation on Echo Show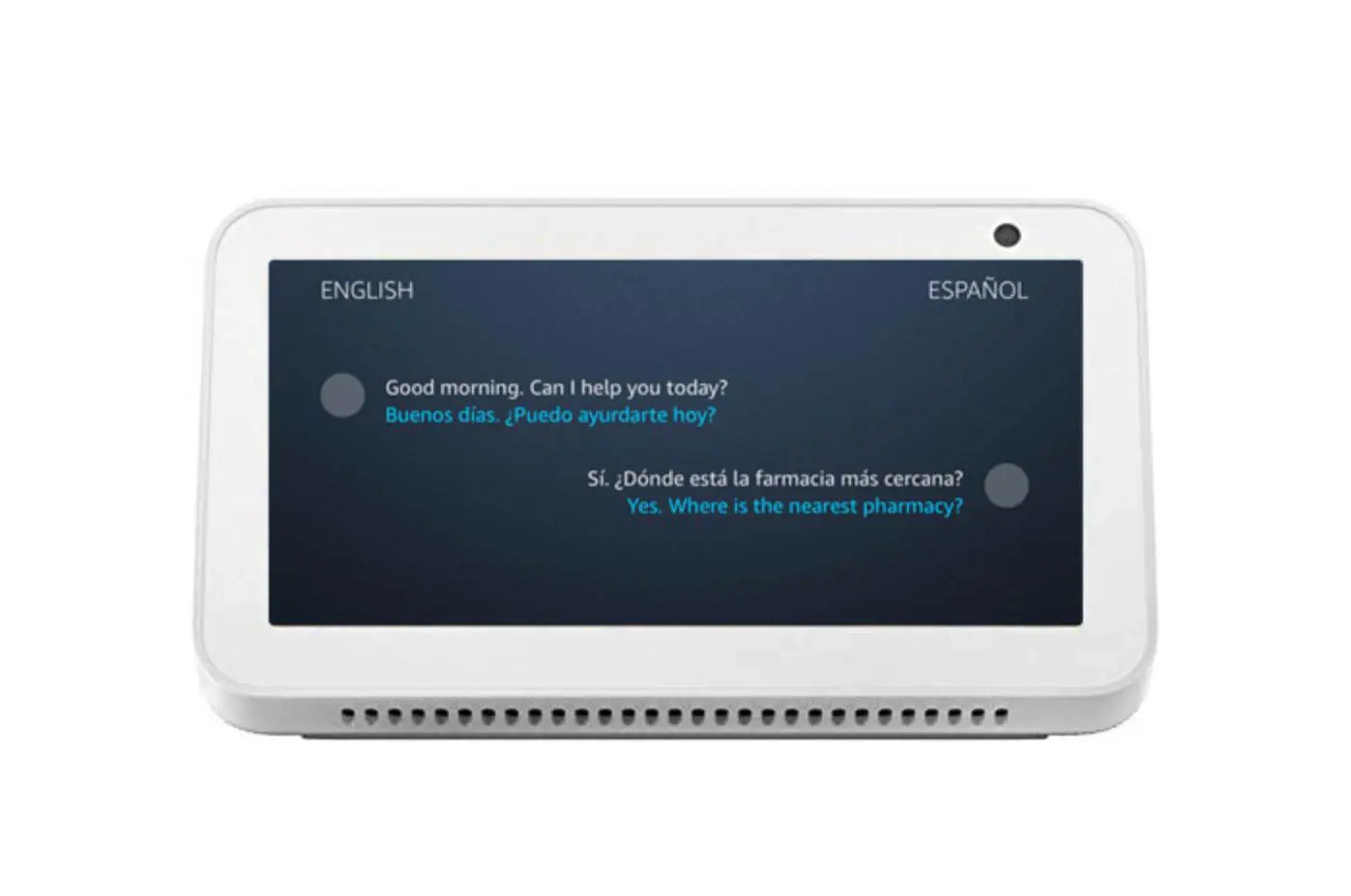 Amazon is taking communication to a global level with the introduction of Call Translation, an innovative feature for the Echo Show. This transformative capability promises to make conversations seamless and inclusive by breaking down language barriers. Call Translation enables Echo Show users to transcribe calls with onscreen captions. This feature makes it easy to follow and understand conversations, even in situations where language differences might pose challenges. Call Translation right now is able to translate speech into over 10 languages, those being English, French, Spanish, Portuguese, and more. This extensive language support ensures that users can engage in conversations with people from around the world effortlessly. Call Translation is set to roll out later this year to Echo Show devices and the Alexa app. Users in the US, Canada, Mexico, the UK, Germany, France, Italy, and Spain will have the privilege of using this feature, promoting cross-cultural communication and understanding.
Map View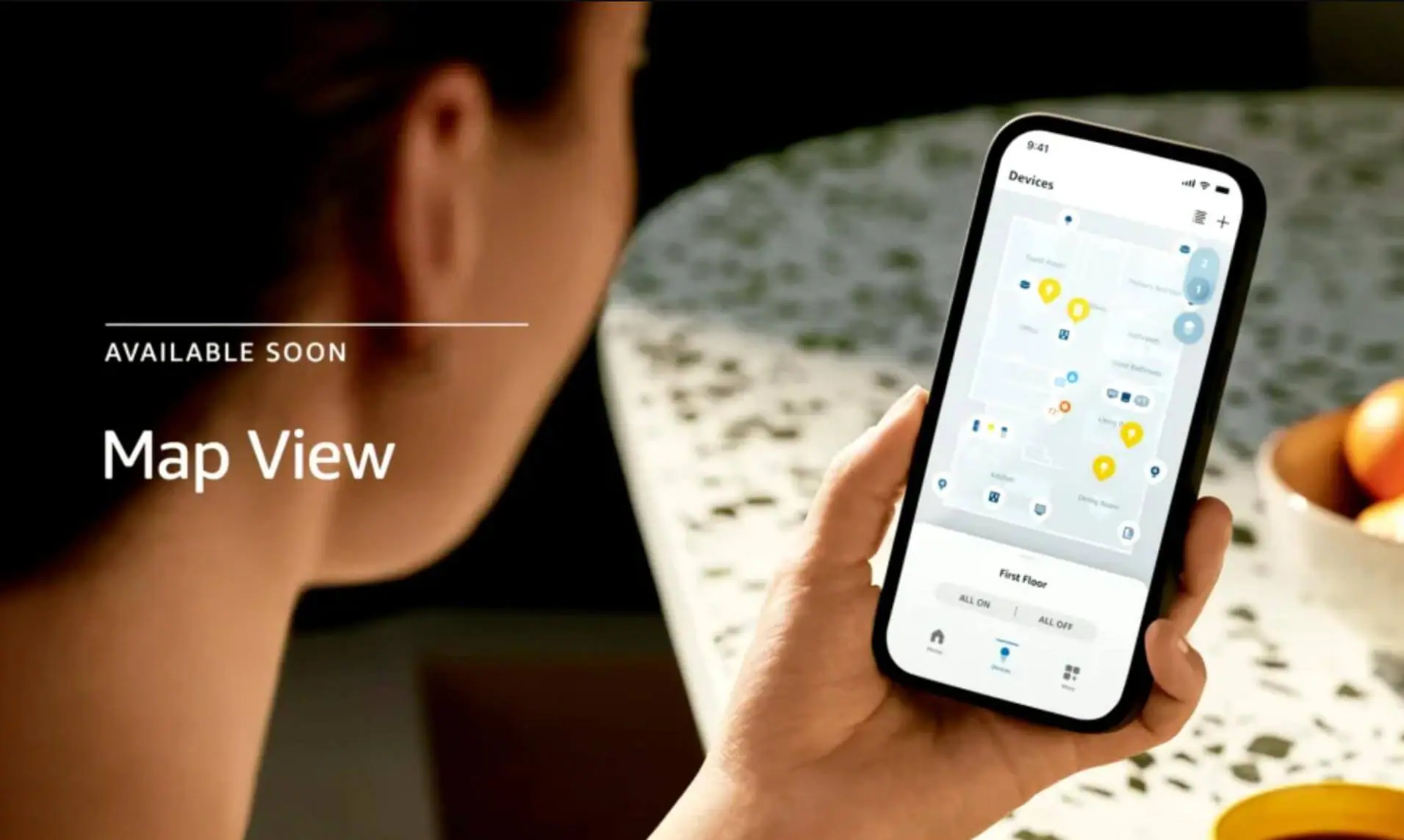 Amazon is redefining the management of smart home devices with the introduction of Map View. This innovative feature offers a seamless and intuitive way to view and control your home devices by using a digital floor plan. It allows you to create an indoor map of your home using your phone. Initially launching on LiDAR-enabled iOS devices, this feature serves as an efficient alternative to the sometimes cluttered Alexa app's device list. It organizes your devices room-by-room, providing a clear and organized overview.
With Map View, you can quickly glance at your device setup, control devices, and even access live camera feeds directly from the floor-plan layout. This streamlined control enhances the user experience, making it easier than ever to manage your smart home. Map View is an opt-in feature, ensuring that users have the flexibility to choose whether to utilize it. It's designed to enhance convenience and accessibility for those who find traditional device management methods less intuitive.
Map View is set to launch in the US later this year, offering users a fresh and efficient way to manage their smart homes. By simplifying device control and organization, Amazon is making the smart home experience more user-friendly and accessible to all.
Alexa Emergency Assist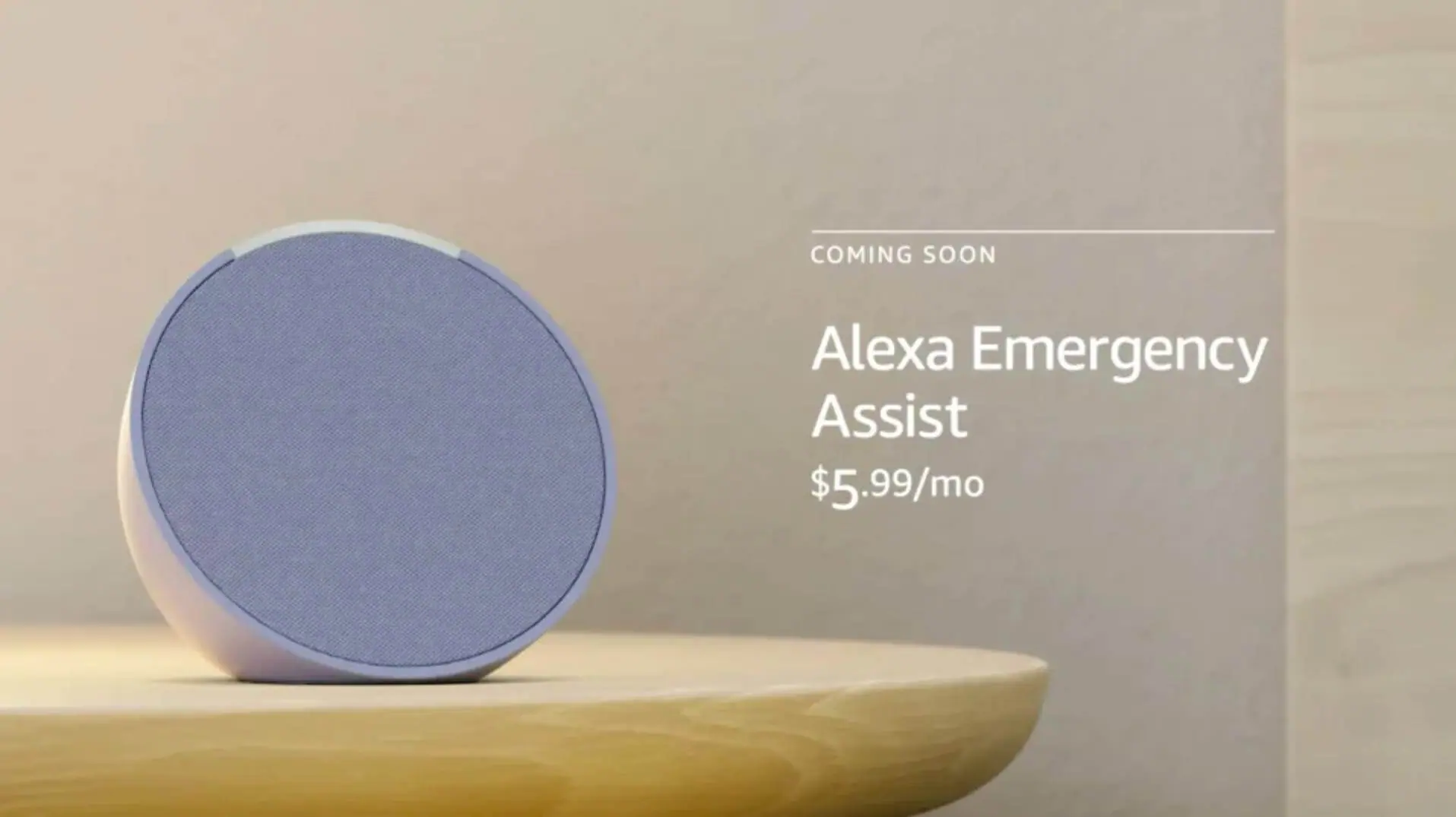 Amazon is prioritizing the safety and well-being of users with the introduction of Alexa Emergency Assist. This invaluable feature is designed to offer peace of mind and quick access to assistance for seniors and individuals with disabilities. With Alexa Emergency Assist, users can easily contact first responders by simply saying, "Alexa, call for help." This straightforward command connects you with a dedicated and professionally trained agent who is available around the clock.
Setting up Alexa Emergency Assist is a one-time process where crucial information is saved, including your home address, medications, allergies, and device details. This eliminates the need to provide this information during an emergency call, ensuring a swift and accurate response. Alexa Emergency Assist is an affordable solution, with a pricing model of $6 per month or $59 annually. This pricing structure ensures that enhanced safety features are accessible to a wide range of users.
Alexa Emergency Assist is set to launch in the US soon, reinforcing Amazon's commitment to ensuring that technology serves as a valuable tool for safety and support. By simplifying emergency assistance, this feature aims to empower users to live confidently and securely, knowing that help is just a voice command away.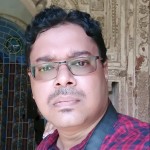 With a keen interest in tech, I make it a point to keep myself updated on the latest developments in technology and gadgets. That includes smartphones or tablet devices but stretches to even AI and self-driven automobiles, the latter being my latest fad. Besides writing, I like watching videos, reading, listening to music, or experimenting with different recipes. The motion picture is another aspect that interests me a lot, and I'll likely make a film sometime in the future.

link