Reviews and recommendations are unbiased and products are independently selected. Postmedia may earn an affiliate commission from purchases made through links on this page.
Article content
The temperate winds of a winter Chinook may hint at spring, but the 2023 Calgary Home and Garden Show means the real deal is on its way.
Article content
The annual four-day expo runs from Thursday, Feb. 23 to Sunday, Feb. 26 at the BMO Centre, Stampede Park and is Calgary's largest home and garden show of the year. More than 400 exhibitors and vendors are getting ready for spring and summer with the latest products, services and home technology, with celebrity appearances and sage advice from Canada's most followed home and garden design influencers.
Article content
Appearing in Calgary for the first time is Randy Spracklin, co-owner of third generation construction company Newfound Builders and crew boss of HGTV Canada's Rock Solid Builds. A newcomer to HGTV's programming lineup, Spracklin is looking forward to meeting Calgarians and sharing stories (or spinning yarns, as he says) about the unpredictable nature of filming a television show in his native Newfoundland.
Article content
"The beauty thing about it is the production team just follows behind. They come at 7 o'clock in the morning and there's really no schedule. It's like a documentary is what they're putting it as. And with weather and supplies, you gotta pivot," he says in his friendly Newfie accent. "You wouldn't be able to write half the stuff we're doing."
Growing up, Spracklin helped his father, grandfather and uncle in their building business, but as a young man he left to try his luck out West. He picked up a few tricks of the trades and returned to Newfoundland in 2008, where he revamped the family business and was eventually contacted by HGTV to tell tales of home building on The Rock.
"Things like building a foundation is totally different here. Digging out West you'd hardly see a pebble but digging down here, there's nothing but rock. And there's different techniques because of our climate. Like, we gotta gum our shingles, 'cause if not they'll blow out to the ocean. We're blowing 120 kilometre an hour winds on a good day," he says.
Article content
His show features incredible renovations and stunning builds with a fun-loving crew. It was HGTV's No. 1 rated program in its first season.
"The show is awesome, but we can't take all the credit because of our backdrop of Newfoundland and Labrador, which is amazing. A lot of people comment about the places they should visit and our language, because we do speak different," he says.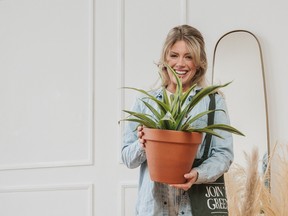 Joining Spracklin in the Main Stage line up is another first-timer — Emma Terrell, the Urban Botanist, an Ottawa-based biology major who will discuss how Canadians can and should bring more nature indoors.
"I'll talk about types of plants suitable for all green-thumbers, how plants are beneficial to your mental and physical health and how they can improve spaces no matter what size of home you've got," she says. "I'll share tips on how to be the best plant parent you can be. I strongly believe that plant care is self care, in so many ways."
Article content
Terrell herself keeps more than 150 houseplants healthy and alive and shares her wisdom with her 14,000-plus followers on Instagram, one of many social channels. She hosts virtual workshops and a web series on botany design. Her presentation will touch on moss walls, a new age decorating trend that brings real greenery into the home without need for water, sunlight or maintenance.
"The moss is preserved. It doesn't grow or spread and should last eight to 10 years," she says.
Lee Martineau of Doug Gardens is another new presenter, with DIY Mommy Christina Dennis and Megan GoLightly of Go Simplified back on the Main Stage by popular demand.
A new feature in 2023 is Backyard Wars, a friendly competition in which four local landscape companies use their design genius to build a mini-backyard display. Show attendees vote for their favourite. This year, the Help Desk will assist visitors in finding exhibitors to answer their home and garden questions.
A list of all vendors, features and presentation times is posted on the Calgary Home and Garden Show website at calgaryhgs.com
THE DETAILS
WHAT: The 2023 Calgary Home and Garden Show
WHEN: Thursday, Feb. 23 to Sunday, Feb. 26
WHERE: BMO Centre, Stampede Park
HOURS: Feb. 23 from noon to 9 p.m., Feb. 24 from noon to 9 p.m., Feb. 25 from 10 a.m. to 9 p.m., Feb. 26 from 10 a.m. to 6 p.m.
TICKETS: $16 full day/$8 half day for ages 13-plus; $11 for ages 60-plus; free for children 12 and under. Save $2 per ticket by purchasing online.
INFORMATION: calgaryhgs.com
link