Almost half of Irish companies are concerned about the costs or time involved in meeting new EU rules on greenwashing, new research shows.
The Corporate Sustainability Reporting Directive (CSRD), strengthens the rules around the social and environmental information which companies have to report.
Under the law, EU companies will have to report in more detail, and therefore be more transparent about the impact of their actions and policies on the environment, human rights and social standards.
The rules aim to tackle so-called 'greenwashing' – when businesses mislead consumers to make them believe their products or services are sustainable, when that's not the case.
More large companies, as well as listed SMEs, will be required to report on sustainability as a result of the new law.
Last January, the Irish Government and other EU member states were given 18 months to bring the EU directive into law.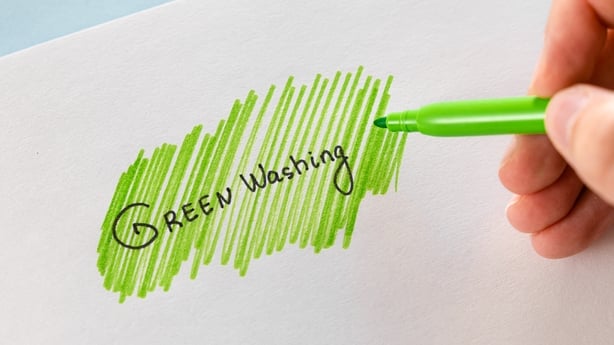 But new research published today by the Compliance Institute highlights a number of concerns Irish businesses have about the new EU law.
41% of companies surveyed said they will struggle to provide the data required, while almost 60% said the new rules will have a significant or huge impact on their business.
The research also reveals a lack of understanding among businesses about the changes.
Almost half of the companies surveyed were unaware that they will be independently audited as a requirement of the CSRD, while 7% said they didn't understand the new rules.
We need your consent to load this rte-player contentWe use rte-player to manage extra content that can set cookies on your device and collect data about your activity. Please review their details and accept them to load the content.Manage Preferences
Speaking on Morning Ireland, Michael Kavanagh, CEO of the Compliance Institute said the new law makes a number of major changes.
"There are rules in place already for front-end reporting for certain large entity reporting, but this law completely expands the scope for some smaller entities," he explained.
Mr Kavanagh said the rules themselves have also expanded.
"We now have mandatory reporting standards that have been developed by the European Financial Reporting Advisory Group.
"These are in place, they have been agreed, there are 12 of them already and they will mean that you have to report the impact risks, metrics and targets for things like climate change, pollution, water and marine items – there is a lot of reporting involved in this."
Mr Kavanagh said he was surprised to find that a large number of respondents to this survey are unaware of one of the most significant aspects of the legislation, which is that independent auditing will become a feature.
"The CSRD makes it mandatory for the information produced by companies covered by this law to be subject to external assurance by an independent third party," he added.
Mr Kavanagh urged companies who have not yet done so, to make it their priority to get up to speed on, and comply with their obligations.
"You need to discuss how it is going to be resourced, how you are going to get the information, and you need to prepare a detailed project plan on who is going to do what," he said.
He added that businesses should not underestimate the amount of work involved.
"Many people thought the gender pay gap information wouldn't be that onerous to collect last year, but anyone I've spoken to have said they underestimated the gathering of that information.
"This is arguably 12 times harder because there are 12 standards out there – so put that project plan in place and resource it now," Mr Kavanagh said.
Any company that does not comply could face harsh penalties, he said, adding that they will also be "named and shamed".
link